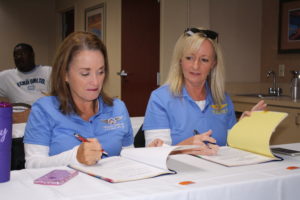 The First Delegate Council of IAM Woodworkers District Lodge W2 was held on Saturday, October 28, 2017.  Local Lodge Members Patty Jones and Sharon Smith represented the Local Lodge during the meeting.  Patty and Sharon represented the two votes that the Local Lodge was entitled to (based on number of members) during the council meeting.  Votes were taken on proposed bylaws changes, as well as elections for the next term of District Executive Board Members, a four-year term, including the President/Directing Business Rep and Assistant DBR positions.
Kelvin Godwin and Melone Irvin both retained their elected positions as DBR and ADBR respectively.  Local Lodge Members are very familiar with ADBR Melone Irvin, as she has been present at the most recent Local Lodge Meetings and assisted in recent contract negotiations for Lockheed Martin and CymSTAR.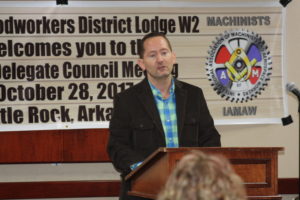 Local Lodge Member Layne Johnston, who has been serving as a Trustee for District W2, was elected to serve as Secretary/Treasurer for the next term.  Layne is no stranger to financial bookkeeping for the Union, he served as Local Lodge Treasurer from 2011-2013.
During the council meeting, Layne led a discussion on claiming "Finding Your Christmas Bonus".  Not necessarily in your paycheck from the company, but by finding money that is already yours residing at your State Auditor's office as unclaimed property.  During the discussion, he gave details on how members from Arkansas, Tennessee and Mississippi (sorry Texas, he didn't have info for you!) could quickly and easily do a search for unclaimed property online and determine if they had any money sitting out there  that was rightfully theirs  — just waiting for them to claim it.
By following Layne's directions prior to the meeting, Local Lodge 463 members Valerie Rodriguez, Dan Peterson and Shannon Hanks each discovered money they had owed to them that they knew nothing about.  Making the claim was easy.  Hank's unclaimed property was over $100, and Peterson's unexpected "Christmas Bonus" amounted to over $1000 – certainly making his day!
(If you'd like directions on how to check and see if you have unclaimed property, come to the next Local Lodge Meeting or