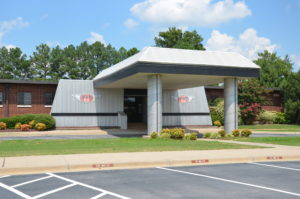 Beginning in January, Local Lodge 463 will hold its monthly business meetings at Hanger 1080 on Little Rock Air Force Base.  For the past few years the Lodge has held its meetings in the conference room of the Walter's Community Support Center where the base library is located.  However, during the course of 2017, the Lodge ran into a few challenges that proved to be cumbersome.  First, the Lodge had a 5:30pm "curfew" in which it had to be vacated of the room for the facility to close.  During most occasions, this worked fine.  However, it presented a problem when the Lodge had guest speakers such as Attorney Mark Martin, or had business to discuss such as contract negotiations, elections, conferences, etc. which typically took longer.
"We have important matters to discuss, and we shouldn't be rushed through it," stated Recording Secretary Sharon Smith.
"All Members have the right to have their voices heard. We shouldn't have to limit discussions or cut people short simply because we have a deadline on when to get out," relayed Lockheed Steward and Lodge Communicator Layne Johnston.
Additionally, a policy change started October 1st, prohibited the Lodge from bringing outside food and beverage catering into the meeting facility.  This put an end to the long-standing tradition of pizza and soft drinks prior to and during the meetings.
For these reasons, the Executive Board solicited suggestions and quotes for new locations.  Several off-base locations in Jacksonville were considered, but it was decided that a meeting location on Little Rock Air Force Base would be the most convenient and conducive to attracting the highest member attendance.  In regards to off-base facilities, once members left base, depending on which direction they live, members may have to travel out of their way or drive several miles in the opposite direction in order to attend the meeting.  Also, for those that must return to work afterwards, having a meeting on LRAFB proved to be the more convenient.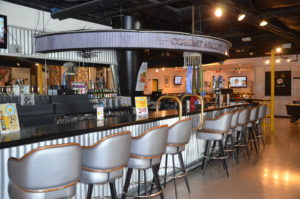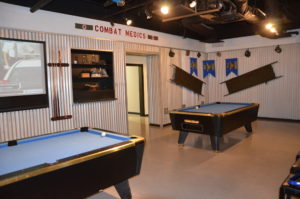 "I look forward to the camaraderie that can be built between members at Hangar 1080 meetings," said Dan Peterson.
This is certainly true. Although no drinking will be allowed during the Lodge meeting or in the meeting room itself, members may partake in drinks at the bar or a friendly game of billiards immediately following each monthly meeting.  For those brave enough to stick around and take the stage, Hangar 1080 even hosts a fun karaoke night following our meetings.
"I think I may start going to meetings now!" laughed member Tina Rowton.
The first meeting of the year will be Thursday, January 18th, at 4:30pm.