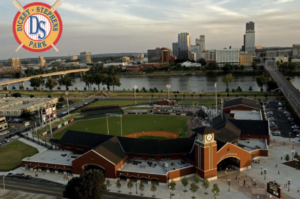 Join your Union Brothers and Sisters for Machinists Night at the Travs Game!
DATE: Thursday, May 10, 2018
Opponent: Springfield
THEME FOR THE NIGHT: Star Wars Night  The ballpark is running a promotion that evening and calling it "STAR WARS Night". Prizes will be awarded to selected fans dressed in Star Wars attire.
Gates Open at 6:10pm • Game Time 7:10pm
Food and Beverages will be served from 6:10pm – 8:10pm to Local Lodge 463 members (free) and their guests ($10 each – includes price of food and seat) in the Dickey Room (privately reserved for IAM 463 Members and their guests).
Please REGISTER your attendance so an adequate number of seat tickets can be purchased and food prepared.