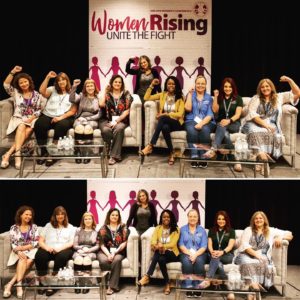 Hundreds of IAM activist women from across North America are gathered in Las Vegas last week for the 2019 IAM Women's Conference.
The theme of the conference was "Women Rising: Unite the Fight." The agenda included an array of guests and panel discussions, to support the ever-increasing role women play in the labor movement. Among the opening day speakers was IAM International President Bob Martinez.
"Look around this room. What do you see?" said Martinez. "I see strong IAM women. I see trailblazers who have had to work twice as hard as a man to get to where they are today. And I see young women who are standing up, speaking out, and positioning themselves to be our next great generation of IAM activists."
Local Lodge 463 sent four of our Sisters to this event: Sisters Terri Erickson, Shannon Hanks, Julie Snyder and Holly Smith. Another of our Local Lodge Members, Grand Lodge Representative Valerie Rodriguez was also in attendance on behalf of the Grand Lodge.
Pictured here are ladies from across our Southern Territory including our Local Lodge 463 Sisters.