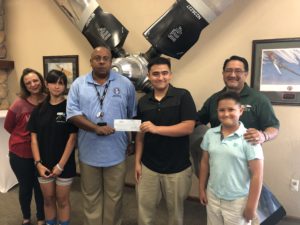 Congratulations to Ethan Bowen, son of IAM Brother Scott "Bobo" Bowen, Pilot SAM on the CAE ATS contract.
Ethan just graduated from Cabot High School where he was a part of the National Honor Society and Technical Honor Society. He was also actively involved in the Air Force Junior ROTC, Spanish Club and Coding Club. He plans to attend the University of Arkansas at Fayetteville this fall and is currently planning to major in Computer Science and be involved in the Air Force ROTC on campus.
Ethan was chosen as the winner by a Selection Committee* of secondary level educators from school districts across the state, arranged by our Scholarship Committee Chairman.  Judged not only on academic performance, but also on club and organization involvement as well as the content of a submitted essay, Ethan was unanimously selected.
Ethan, accompanied by his family, was presented with a $1500 check at the Local Lodge's June Meeting on the 20th.
IAM Local Lodge 463 congratulates Ethan on his accomplishments and wishes him the best of luck as he begins this new and exciting part of his life.  Lodge Members may leave a comment below congratulating Ethan and wishing him well.
*As customary, in order to provide complete anonymity and fairness, it was verified that no member of the Selection Committee knew any of the applicants, their families, or were employed by any of the school districts in which the applicants were graduating.