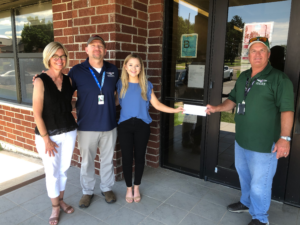 Congratulations to Madeline Johnson, daughter of IAM Brother Christopher Johnson, Navigator Instructor on the CAE ATS contract, for being selected as this year's recipient of the Robert V. Jurasek / Bobby G. Jones Memorial Scholarship of IAM Local Lodge 463. Madeline, accompanied by her mother and father, was presented a check for $1500 by Lodge President Chris Carr at the entrance to the ATS program's Center of Excellence.
Madeline is a graduate of Cabot High School, where she graduated 6th in her class (out of 748!).  While at Cabot High School, Madeline was active in Girl Scouts of the USA where she won a Gold Award for her contributions to nursing home residents during the recent COVID-19 crisis.  Madeline was also a Hugh O'Brian Youth Leadership participant, a privilege afforded to only one person from each school district across the state. Additionally, she was selected to attend Arkansas Governor's School and as a delegate for the Electric Cooperatives of Arkansas Youth Tour in the summer of 2019. She also served in a volunteer position in the office of US Senator John Boozman through the school year.
Madeline plans on acquiring a pre-law education through the Honors College at the University of Arkansas in Fayetteville this fall, where she will work toward earning a Bachelor's degree in Journalism and Political Science. Upon completing her degree, she hopes to enter law school.
Madeline was chosen as the winner by a Scholarship Selection Committee of secondary level educators and administrators from school districts in Arkansas and Texas, arranged by our Scholarship Committee Chairman.  Judged not only on her academic performance, but also on club and organization involvement as well as the content of her referral letters and her own personal statement essay, Madeline was unanimously selected.
IAM Local Lodge 463 congratulates Madeline on her accomplishments and wishes her the best of luck as she begins this new and exciting part of her life.  Lodge Members may leave a comment below congratulating Madeline (or her father Christopher Johnson) and wishing her well.