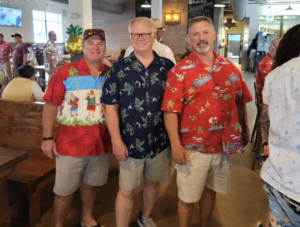 Local Lodge Members braved the heat, and the summer-time thunderstorms on Saturday, to make it out to Fassler Hall in downtown Little Rock for one heck of a Summer Time Party.  For 2 hours, Lodge Members had the entire restaurant to themselves, and each patron was allotted a hefty dollar sum to spend on any food and beverage items of their choice off of Fassler Hall's German-style menu.  A live one-man band and all the Hawaiian and tropical shirts and grass skirts helped fill the beer hall's atmosphere with an "island vibe" as Members mingled, ate, and played the various larger-than-life games scattered throughout the venue.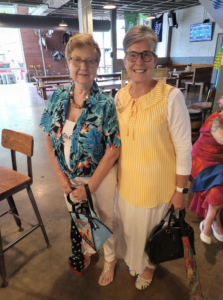 Party coordinator, Boni Jo Boser (our Lodge's Treasurer) drew for door prizes, and also sold raffle tickets for our grand prize – a guided trout fishing tour on the Little Red River.  Proceeds of the raffle were donated to Little Rock's Harmony Health Clinic which provides health and dental insurance care to under-insured folks in the area, including many veterans.  Sister Linda Brown, who was recognized earlier in the event as the longest serving current member (she has more seniority than any other current member of our Local Lodge), was the winner of the raffled prize.  Linda, who has served several terms on our Lodge's Executive Board in the past, will be retiring later this summer.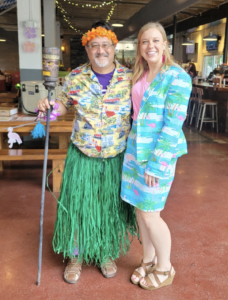 A special thanks to Boni Jo Boser, and all the Members who helped her to plan, organize and throw this party for our Local Lodge Members.  We hope each Member, and their guest, that attended the party had a wonderful, fun time.  We were especially glad to see our Kay & Associate Brothers & Sisters attend, as this was the first event the Lodge has held since their contract was organized by our Lodge ~ COVID-19 railroaded our Christmas party plans last December.  Congratulations also to Scott Bowen, who was voted Best Dressed/Costume for the party. Scott received an automatic door prize for his win.
Below are a few photos from the event.  Please continue to check back as more photos may be added as the webmaster receives them. If you have photos from the event that you'd like to share, please feel free to email those to iamaw463communicator@gmail.com or text them to Layne Johnston if you have his number (we won't publish that here for all of cyber-world to see).
We were able to capture a few of the door prize winners with their prizes. See the gallery below: