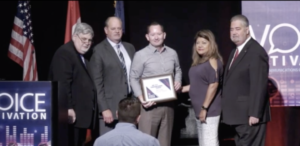 Local Lodge 463 Communicator, Brother Layne Johnston, was presented with an award at the recent IAM Communications Conference in Las Vegas for having the Best Layout & Design of a Local Lodge Website in the IAM. The judge's comments about the Lodge's website were, "Stunning opening page, intuitive navigation. It features elegant animation effects. Overall, a professional, modern website."
He was presented the first place award by IAM International President Bob Martinez; General Secretary-Treasurer  Dora Cervantes, General Vice President of the Southern Territory Rickey Wallace, and Communications Director Bob Wood.
Johnston was in Las Vegas attending the 2019 IAM Communications Conference, alongside nearly 200 other IAM Local Lodge and District Communicators. Over the course of three full days, attendees heard from fellow union activists and leaders, journalists, and technology company representatives. Attendees also participated in workshops and discussion panels by industry leaders to gain new insights and communication strategies that could potentially be used in their own lodges.
IAM International President Bob Martinez opened day two with remarks to the delegates about the importance of communications in its ongoing organizing efforts.
"I want to thank each and every one of you for the very important work you do. Day in and day out, local and district Lodge communicators do work that is often selfless, but extremely critical to our union," said Martinez. "In addition to working your jobs at IAM shops, you donate your time to keep our membership informed. I know your job isn't easy and you don't often get thanked for what you do. On behalf of myself and your Executive Council, thank for what you do for our union."
 See photos from Day 1 of the 2019 IAM Communications Conference.
See photos from Day 2  and Day 3 of the 2019 IAM Communications Conference.
The final day concluded with an eloquent banquet where First, Second and Third Place awards were presented for Websites, Newsletters and Social Media sites maintained by Local and District Lodges throughout the IAM in the US and Canada.
When asked about the award, Johnston stated, "I didn't see that coming, but I'm very honored to be recognized for my work on the website. It's nice to know that our Lodge and our website are on the Grand Lodge's radar."
When asked more specifically about the website, and the Local Lodge's use of other communication mediums, Johnston had the following input:
"With websites, I feel it's very important to have a uncluttered and easy-to-navigate website. When people come to your website, they're not just 'window shopping' and they didn't decide to ' just stop by.'  They've come there for a purpose. They're looking for a specific piece of information. It's important to have a layout that makes that information, whatever it may be, easy for them to locate. It's also very important to have current and correct information. And finally, one of the things that I think many websites lack, is mobile compatibility.  These days the majority of people are accessing websites via their smartphone or tablet, rather than on a traditional desktop computer or laptop. It's imperative to have a responsive layout that allows your website to look good on these platforms as well."
He also added, "As far as newsletters and social media sites go, I could probably do a better job with some of those. We do have a Facebook page and a Twitter. But you do have to know your audience. The majority of our members in the Local don't use Twitter, and many don't even have a Facebook profile. Solely relying on those platforms to deliver information would be mistake. We don't do a newsletter. I personally don't see the need for one if I'm posting the same information that would be in one on our Lodge's website and/or sending that information out in email blasts to our Members. It seems kind of redundant. Every Lodge is different, but I feel the best mix for reliable and timely communications with my particular Local Lodge is communication via email, text messages, the website, and face-to-face conversations with stewards."
Below is a video of the award being presented to Brother Johnston.