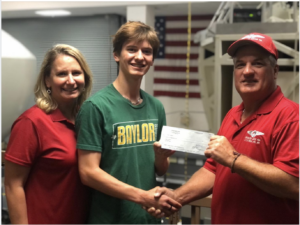 Congratulations to Gabriel Dickson, son of Sister Susan Dickson (Pilot SME, CAE), who was the recipient of this year's Local Lodge Scholarship. Gabriel was unanimously selected by the Scholarship Selection Committee to be this year's recipient. He was presented a $1500 check on behalf of the Local Lodge by President Chris Carr in front of the C-130 simulators at the Center of Excellence school house.
Gabriel is a graduate of Cabot High School, where he graduated 3rd in his class. He played varsity football and soccer and served as President of the school's Ecology Club. Gabriel plans on attending Baylor University in the fall and although he is currently undecided in his major (as most freshman are), he mentions that he may be leaning towards Engineering.
Just a few short months ago, Gabriel was also awarded one of the 16 IAM Grand Lodge Scholarships awarded this year. As one of the recipients of this scholarship, Gabriel will receive $1000 a year for 4 years!
Local Lodge 463 is extremely proud of Gabriel, all his hard work and accomplishments through the last few years, and we wish him all the best as he begins this new chapter and journey in his life.